Warning! You can still buy LightningMail, but we no longer support or update LightningMail. We may still be able to help you with installation or usage, but this software will not be changed.
Introduction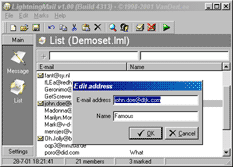 LightningMail is a personalized mailing list management application with many features and excellent performance.
LightningMail allows you to manage lists of over 2 billion recipients, create personalized messages using macro's and send all of it through it's built-in high automated SMTP client.
Both messages, list and individual e-mail addresses can be both imported and exported to a number of different formats which can be easily expanded, making LightningMail one of the most flexible applications in it's field.
LightningMail is free for list of up to 25 recipient. If you wish to send your message to larger lists, you can register LightningMail for just US$9.95 and work with lists of over 2 billion recipients!
Features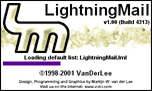 Letting you address over 2 billion recipients, LightningMail is practically without limits. LightningMail can handle anything from a local hobby club mailing list to an international corporation's business mailings.
LightningMail lets you load and save lists of mailing list members. exclude members specified in other lists, automatically remove duplicate e-mail addresses, append lists and import addresses saved from other applications and, using it's powerful plugin system, can be easily extended to import or export message from any source imaginable.
Currently LightningMail allows you to import and export to generic mailing lists, Outlook Express saved e-mail and news messages, Netscape saved e-mail messages and vCard's.

Creating the messages is both easy and flexible. You can use any standard text editing features such as copy and paste but also more powerful features such as symbol insertion, and plugin-based text inclusion or modification.
Messages can be imported and exported, currently only to LightningMail's own format and text files but using the plugin system, any format (file or non-file) is possible.
You can make the messages personalized by using the plugin-based macro's, which allow text to be inserted during sending. This allows you you insert the actual recipient's name or e-mail address into the message body or subject and, by creating your own plugins, send out registration keys and similar sensitive information, which you can't using other mailing list management applications.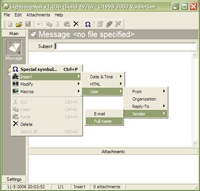 You can even send your messages as HTML, using some specific plugins, you can insert HTML coding into your message which will be replaced by bold text, underlining, color, links or images. Most normal HTML coding can be inserted manually.
If you choose to format your message as text, however, you can have LightningMail format the message for you; automatic line wrapping, justification, margins, line spacing and text fill out are all at your disposal. Any HTML tags found in the message are removed automatically when sending with the text format so you can create one single message for both the HTML and text format.
Another feature found in only the top few mailing list management tools is attachments. You can send any random file with your message, Word documents, images, sound files, programs or anything you want.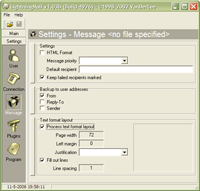 LightningMail has a wealth of options and settings which will allow you to change anything from the proxy server authentication to whether or not ToolTip hints are displayed in LightningMail. Here's a list of just a few of the things you can configure;
SMTP Server authentication
Proxy server settings and authentication
Dial-up connection
Message priority
Default recipient name
Message body font
Action sounds
And most importantly, LightningMail will send out the mailing list using a high speed system which will outdo all but the most expensive mailing list applications. Extensive testing proves LightningMail can do over 34 messages per minute, including error handling on as little as a 56K6 modem. High speed connections, local SMTP servers or a faster computer can increase speed to over thousands per minute easily.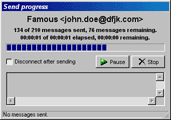 LightningMail will do uninterrupted sending which means that all errors which do not need immediate attention by the user will be handled by LightningMail itself. Simple problems such as invalid e-mail addresses or unknown mail boxes will be automatically handled by LightningMail and put into a log. After sending has completed, any failed addresses can be either retried or removed from the list.
Automatic connection (dial-up) and disconnection allows you to leave LightningMail running by itself without the need to watch it. You can have it send out a message at the end of the day at the office, leave for home and come back the next day to see it completed.
All these features are available through one simple and easy to use interface. A navigation bar provides you with access to the different sections of LightningMail and dynamic menu's, toolbars and context sensitive pop-up menu's all make operation as simple as possible.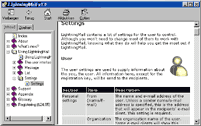 Scheduling is also supported. Using start-up parameters, you can get LightningMail to load any number of lists, a message and settings (only default file formats supported), have it send out the message automatically and even exit LightningMail automatically after completed sending. Combined with a powerful scheduler you can use this to create an automated message generation system, using LightningMail as the e-mail engine.
A full help system is included in the form of HTMLHelp, Microsoft's latest standard for help files. The help system features extensive information on all the functionality of LightningMail and general information about support and the internals of LightningMail.
Screenshots
Download
Download the free trial version here. It's fully featured but limited to 25 recipients. The full version supports over 2 billion recipients; more than you'll ever need.
LightningMail (Version 1.03b, Windows, 1.5 MiB)

After downloading the setup program you can install LightningMail by double-clicking it and following the instructions provided by the setup program. Automated uninstallation is provided should you ever need to remove LightningMail.